Final Space Shuttle Launch
In many ways this is the end of an era. Friday, November 5, 2010 was to be the last and final launch of the space shuttle. However, there was a hydrogen leak during the fueling process. Launch is now delayed until November 30, 2010. Actually, the first shuttle launch was in April 12, 1981, when it was still a dream to move into outer space. However, our nation is running out of money.
Back in the 60's there was an Apollo moon program. Its goal was to go to the moon. However, forty years later we do not have any lunar bases. The question is why?
Sadly, our nation is no longer on the fore front of technology. It has become a laggard in many ways. Technology is produced elsewhere and brought here.
What we see is that it is in a slow decline. Few people can imagine that at one time we did dream of robots and flying cars.
The Space Shuttle being retired is one more sign that we are in a decline.

Instead of building bases on the moon, we no longer have any transportation to the international space station (ISS), but we must depend on Russian rockets.

How did we get into this situation? Well, we spent our money on needless wars, allowed our factories to shut down and be moved overseas, and dumbed down our educational system.

The results are painful for all to see as in the shuttle no longer getting off the ground because we have no money
This nation is going into decline at a fast pace.
Will Man Go to the Stars?
People dream that we will live among the stars one day. However, what does God say?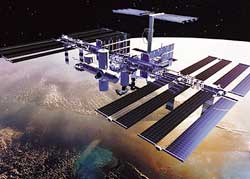 Revelation 21
1And I saw a new heaven and a new earth: for the first heaven and the first earth were passed away; and there was no more sea.
2And I John saw the holy city, new Jerusalem, coming down from God out of heaven, prepared as a bride adorned for her husband.
3And I heard a great voice out of heaven saying, Behold, the tabernacle of God is with men, and he will dwell with them, and they shall be his people, and God himself shall be with them, and be their God.
4And God shall wipe away all tears from their eyes; and there shall be no more death, neither sorrow, nor crying, neither shall there be any more pain: for the former things are passed away.
5And he that sat upon the throne said, Behold, I make all things new. And he said unto me, Write: for these words are true and faithful.
6And he said unto me, It is done. I am Alpha and Omega, the beginning and the end. I will give unto him that is athirst of the fountain of the water of life freely.
7He that overcomes shall inherit all things; and I will be his God, and he shall be my son.
We will go to new heavens and a new earth. He will take us.