The war with Iraq has already started as American pilots have bombed anti-aircraft missile sites in Basra, a city located in the no-fly zone in southern Iraq.
Early today, U.S. pilots performed the fourth strike this week in an area near Basra, when they bombed two mobile, surface-to-air missile sites.
U.S. troops are gathered in Kuwait in preparation for an invasion of Iraq. On Friday, American planes also dropped 360,000 flyers over three towns in southern Iraq, a method that the US has been using in the last few months to sway Iraqis from giving support to Saddam Hussein.
In preparation for terrorist attacks in the continental US, the American government has given guidelines on what citizens should do to protect themselves against these threats.
Homeland Security officials have advised Americans to get ready for a possible terrorist strike by stockpiling food, blankets, water, flashlights, plastic sheeting and duct tape.

The warning came public on Monday, February 11, 2003. The idea is to seal off an area of the home to protect themselves against contaminated air.

After the Bush administration's advice to begin stockpiling, some experts in chemical, biological, and nuclear warfare ridiculed the idea that a person could insulate itself from contamination with just plastic sheeting and duct tape.

Critics question the "plastic sheeting" idea with comments that a small room sealed off with plastic only contains enough air for one person to survive five hours.
The idea of having battery-powered radios or TVs is flawed by the premise that a radio could become inoperative if a nuclear bomb is detonated high over the atmosphere. See the January 15 newsletter.
The EMP created with this type of radioactive weapon will render useless all transistors and computer chips which are components in radios, TVs, and cellular phones. Battery powered radios will only work if the attack is non-nuclear. To protect electronic equipment from an EMP you would need to store the equipment in a Faraday cage.
An N95 gas mask might give some protection against some contaminants, but is not 100% proof.
Having extra food stored as well as water is a sound practice, but only in the case you will not need to evacuate the city. How much will you be able to carry with you, especially if you have children? And where will you evacuate if you are not able to communicate?
Nobody discusses the threat of mobs becoming violent when the police cannot guarantee public safety and you are on your own.
Cash money will be good to have around as the ATM bank machines will shortly run out of money in case of an emergency. As each one of us is in a different city, with a different threat scenario, only the almighty God would know the best way for you to prepare. He can reveal to you what you need to do to protect yourself, if you draw close to Him..

As America prepares for war, millions of protesters worldwide chant slogans against the war with Iraq.
The anti-war protests started on Friday and reached to a peak today Saturday as organizers around the world led the demonstrators in expressing their anti-war sentiment.
Rome, Italy amassed the largest crowds with more than one million. Some members of the crowd were carrying a flag with the word "peace" written in different languages.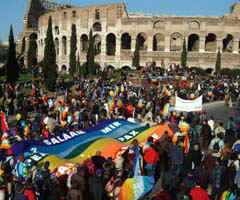 The second largest crowd gathered in London, England where at least 750,000 people marched in one of the city's largest demonstrations putting pressure against Prime Minister Tony Blair.
The third largest rallies were in Madrid and Barcelona, Spain. Each city had gatherings of more than half a million people. Other cities in Spain also had big anti-war demonstrations.
In New York, the estimate is close to half a million people. The mass of protestors was twenty blocks in length and two blocks in width.
Berlin, Germany also had half a million people protesting the war. Sydney, Australia had about 100,000 people, and the numbers continue in a smaller scale throughout major cities around the world some chanting slogans for peace accompanied by music.
Archbishop Desmond Tutu of South Africa, who won the Nobel prize for peace in 1985, expressed himself with these words: "Peace! Peace! Peace! Let America listen to the rest of the world." while leading an ecumenical service at a church across from the United Nations headquarters in New York.
As the nations prepare for war, and the masses chant peace slogans, we Christians remember the words of our Lord.
1 Thessalonians 5:2
for yourselves have known thoroughly that the day of the Lord comes as a thief in the night.

1 Thessalonians 5:3
for when they may say, Peace and security, then sudden destruction stands by them, as the travail [of] her who is with child, and they shall not escape;

1 Thessalonians 5:4
and you brethren, are not in darkness, that the day may catch you as a thief.
1 Thessalonians 5:5
for you are all sons of light and sons of day. We are not of night nor of darkness;

1 Thessalonians 5:6
so then let us not sleep as others do, but let us be
alert and sober.

The return of our Lord is near!